ONwork
- your new, digital workday!
Flytte til moduloversikten? Siden ONwork bruker Microsoft Teams som arbeidsflate gjør vi samarbeid og kommunikasjon enda enklere. Vi oppretter egne arbeidsområder, eller team, som er tilpasset ditt behov og hvor du kan samle alt du jobber med.
ONwork gathers everything you need in one place, so you don'thave to spend time searching for files and information. And best of all - we do it with the systems you use today!
ONwork gives your business seamless structure of files and data. You also get a framework that can be a solid foundation for further digitalisation of the employees' workday. You can develop in the speed that suits your business. ONwork is module-based, and you can build on it with functionality or integrate other systems you use - whenever it suits you.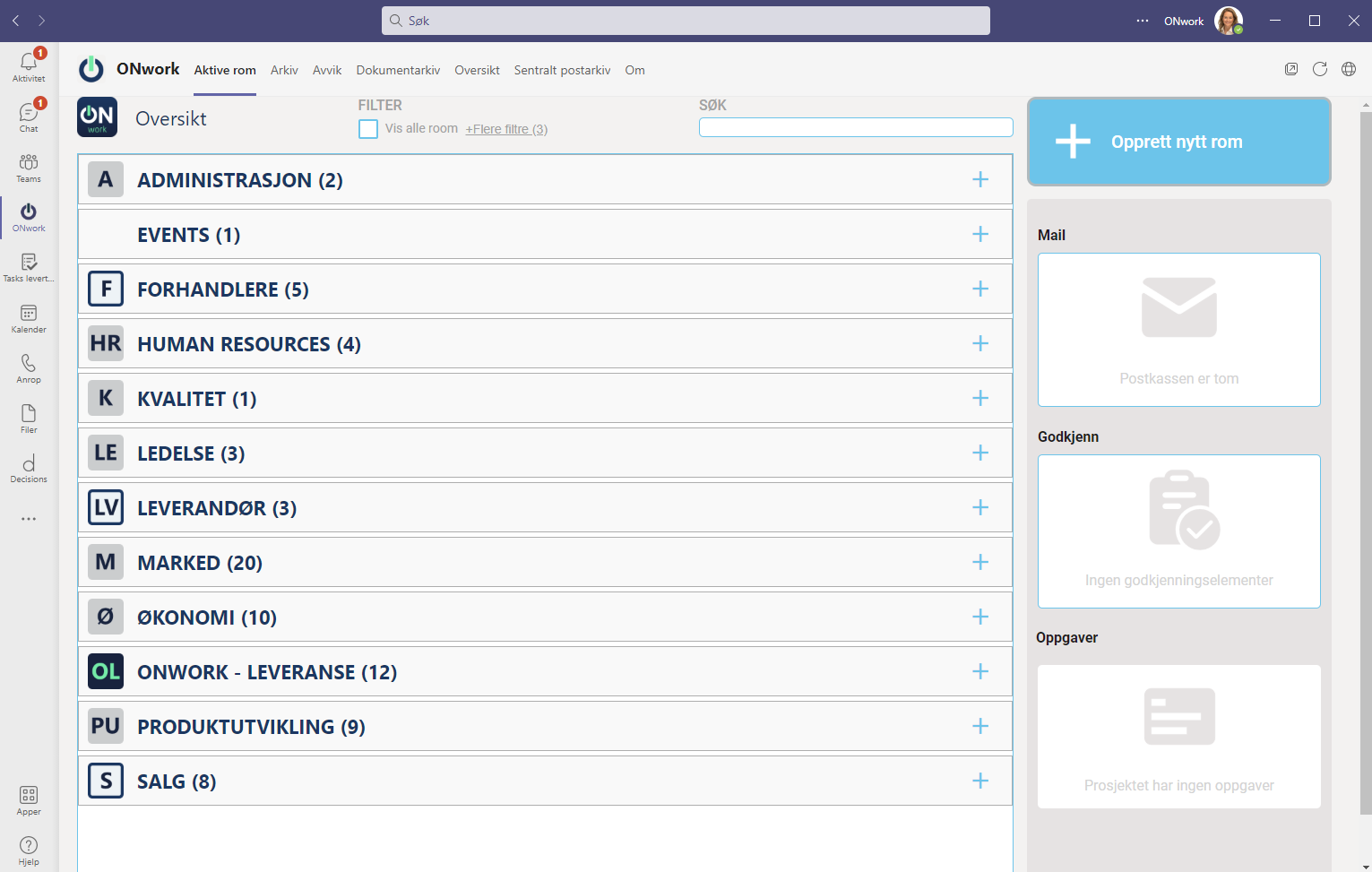 "ONwork forms a solid foundation for further digitalisation of your company."
- Casper Jespersen, founder
Careful start or full throttle?
Choose between Digital Starter Package or Plus Package.
The choice is yours! Digital Starter Package provides structure and overview of all workspaces in Teams, and makes it easy to find what you are looking for. If you want further functionality, the Plus package opens up an ocean of possibilities! This gives you greater flexibility and more opportunities to define content in the teams. In addition, you get the necessary structure to connect several smart modules from ONwork or integrate your other systems. Read more in the overview below!
With Digital Starter Package, your business gets seamless structure on data and files. At the same time, you get a digital framework for the company that can be built at the pace that suits your business.
Fjerne? Den digitale startpakken gir dere en arbeidsplattform og et digitalt rammeverk som samler data og informasjon som kan nyttiggjøres gjennom hele verdikjeden, i alle avdelinger eller funksjoner i bedriften.
Get in the zone with ONwork!
With ONwork, you cut the time you spend searching and maintain the good workflow throughout the day. We collect all files, communications and information in workspaces in Teams, which are accessible from a dashboard.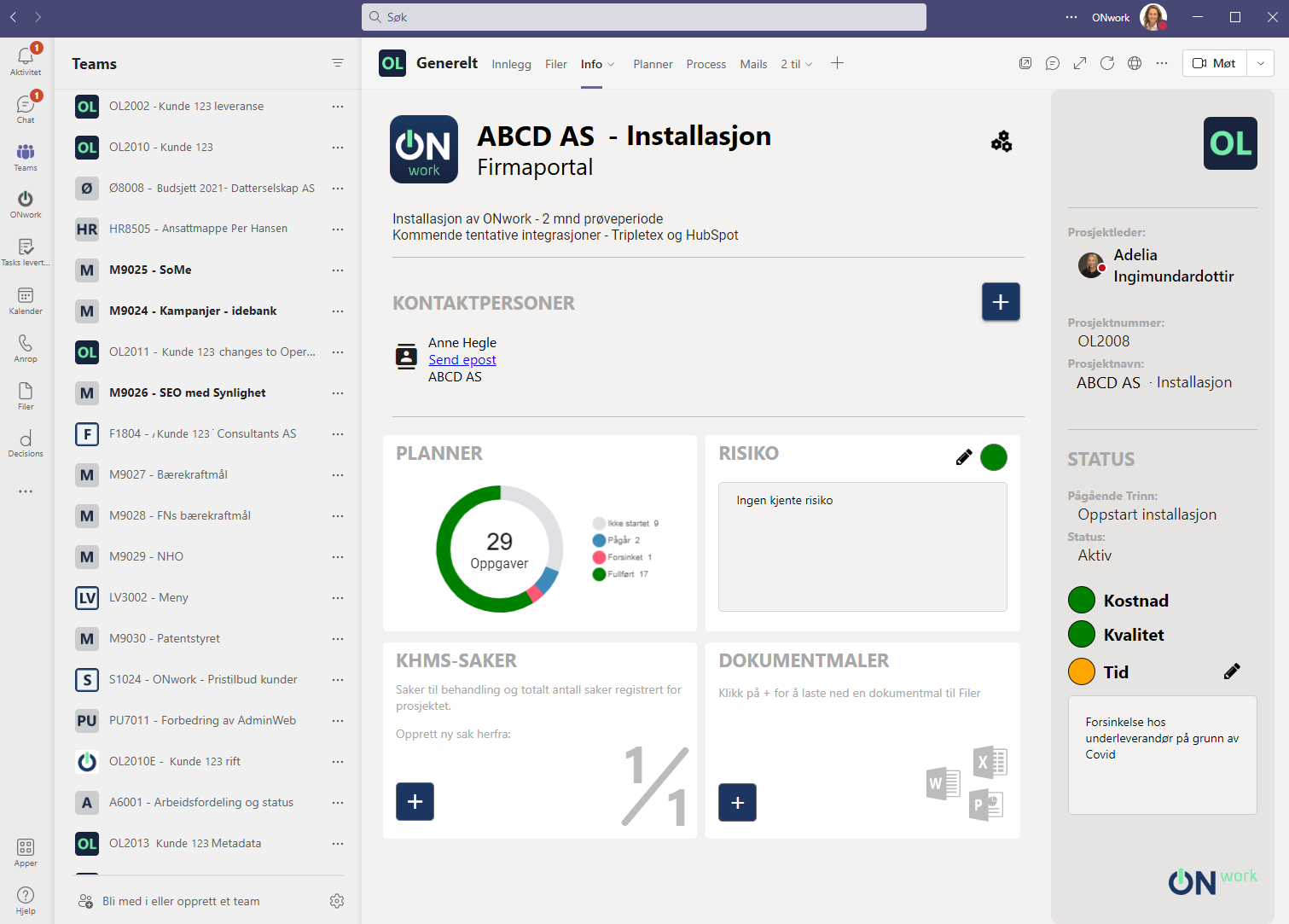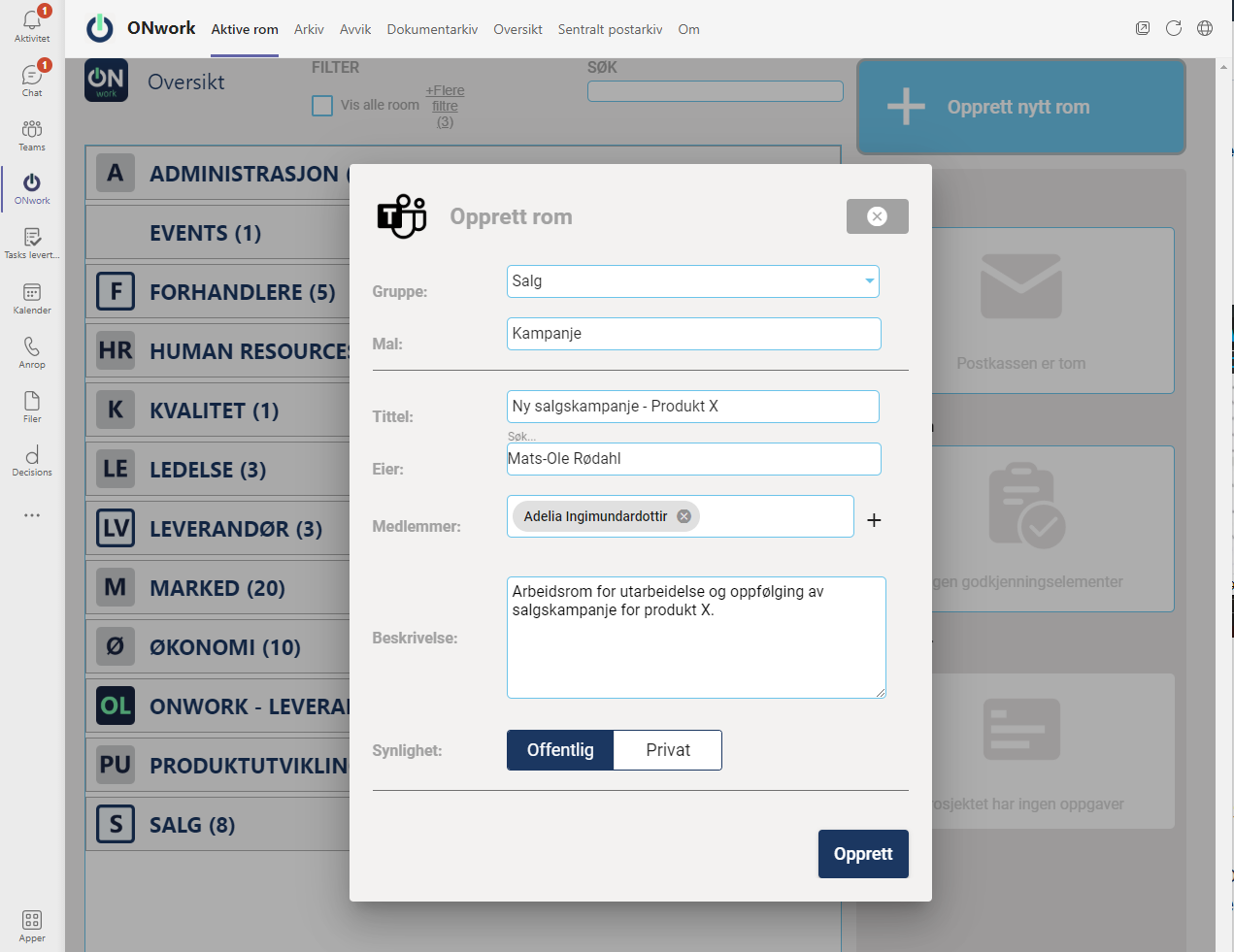 Create smart teams easy as 1-2-3!
New teams are easily created based on templates that you define yourselves. In the templates you can for example add a fixed folder structure, to-do lists and shortcuts to the company's document templates.
Nothing is lost!
When you have finished the job, we clean up the team for you and store it safely. Historical information is easily accessible in a searchable archive. If you want to reopen an archived team, it is easily done from ONwork.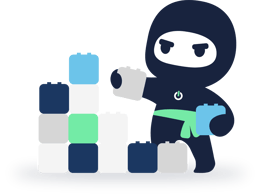 Ready to give full throttle? The plus package opens up a sea of possibilities! The plus package is an extension of the starter package, and gives your company greater flexibility and more opportunities to define content in the teams. In addition, it gives you the necessary structure to connect several smart modules from ONwork or integrate other systems that you work in.
Secure external sharing

Seperate external teams allow you to interact with external users without the risk of sharing internal information.

Everything about the customer in one place

Get a good overview of everything related to a customer. See contacts, submitted offers and deliveries; all in one place.

Get old teams in order

Import your existing teams into ONwork and connect to the appropriate template. We make it as easy to keep track of both old files as well as the new ones.
Collect valuable data

Mark the teams with department, product or customer to automatically collect valuable data.

Correct template when you need it

With a shortcut to the template library directly from the team, the company's current templates are always easily accessible.

A sea of possibilities!

Connect smart modules from ONwork or other systems you work in. Get a basis for collecting, structuring and sharing data throughout the whole value chain.
Curious? Contact us!
Whether you want to talk to us, or get sent more information on how we can help your company. It is of course completely non-binding, and we speak a language you understand!
Create structure and order
En klar og tydelig overskrift
En klar og tydelig overskrift
Group teams

Sort all teams into defined main groups.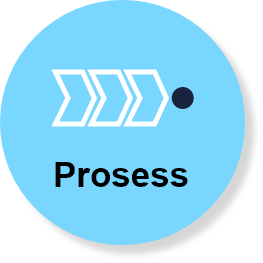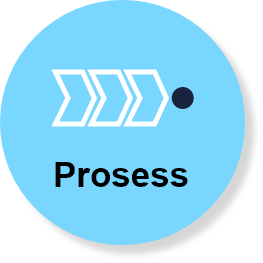 Easy to recognize the team

Clear identity with the use of prefixes and icons. Standardized naming provides a good overview.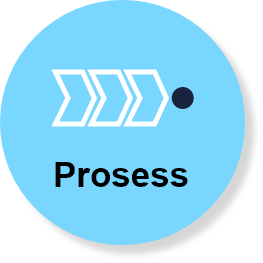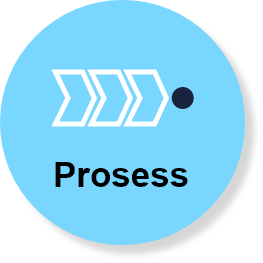 Good overview of all teams

ONworks homepage provides a good overview and searchability.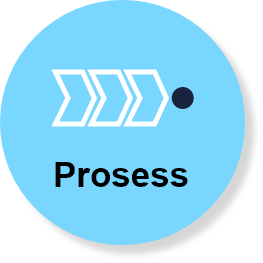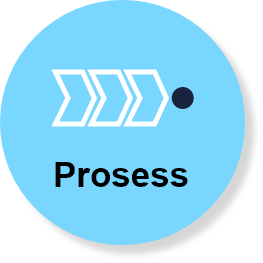 Always the same customer and contact person

Shared central company and contact register for everyone in your company.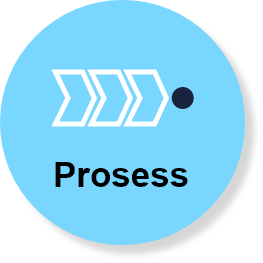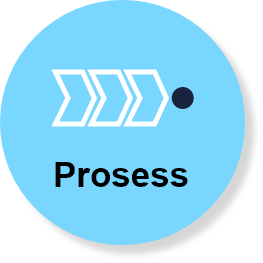 Mark teams with the right department

Connect your teams to the corporate organizational structure.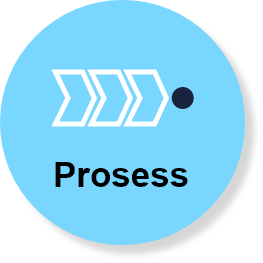 Tag teams automatically with metadata

Tag your teams with defined metadata such as product, industry or address.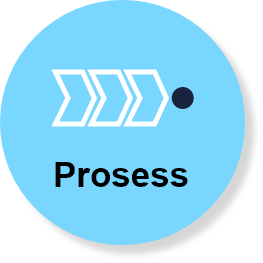 Import existing team

Existing teams can be easily imported into ONwork, and linked to a template and main group.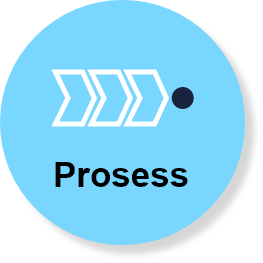 Get started quickly with the job
En klar og tydelig overskrift
En klar og tydelig overskrift
Automatic team creation based on templates

The team is created based on templates that you define yourself, and can be adapted to the task to be performed.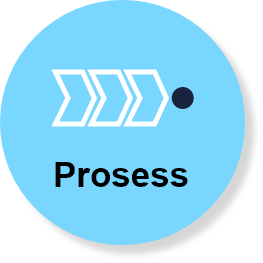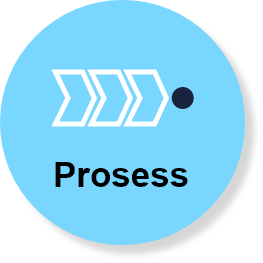 Created with Info tab

The info tab provides all members of the team with an overview of general information and status.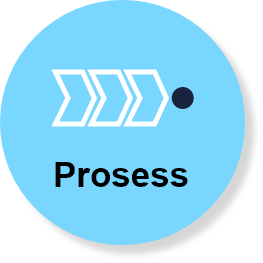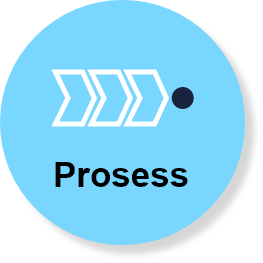 Defined folder structure

The folder structure under the Files tab is defined in the template for the team. Defined documents can also be loaded automatically when the team is created.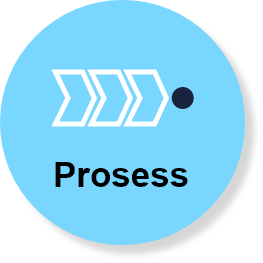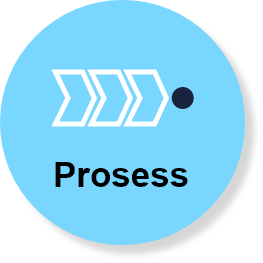 Create fixed channel structure

Define which channels are to be created automatically with the team.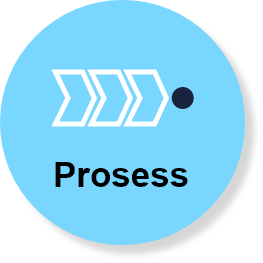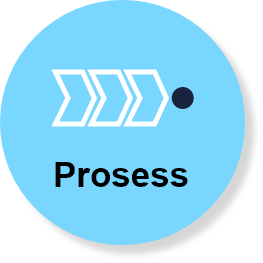 Add standard apps automatically

The template for the team can include, for example, Microsoft Planner or OneNote.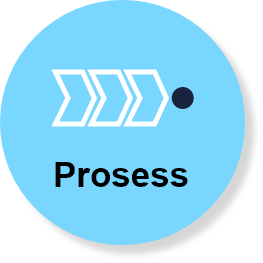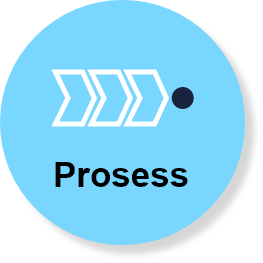 Connect document templates to the team

Shortcut to corporate document templates directly from the team. Which of the document templates should be available is defined in the template for the team.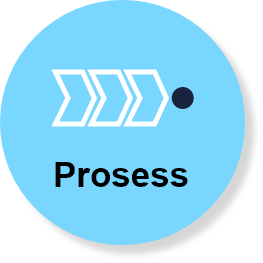 Channel templates

Define separate templates for what content the channels should include when a team is being created.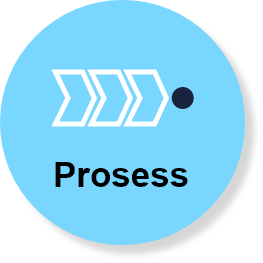 Custom tabs in the teams

Custom tabs with specific content. It can be a view from a central system that is important to be able to perform the job, such as a view of the project finances from the company's accounting system. The display can be controlled on specific indicators.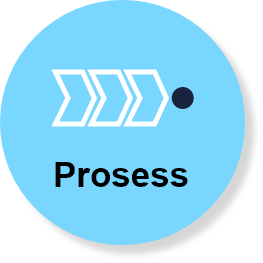 Defined task packages in Planner

Define work plans for Planner that are automatically added when the team is created. The tasks in the package can be built up in defined groups / buckets.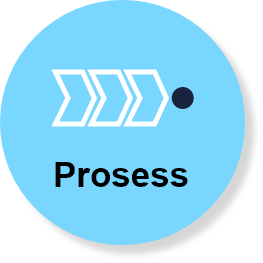 En klar og tydelig overskrift
En klar og tydelig overskrift
Two owners on a team

Having two owners in the room ensures that important information does not become inaccessible in the absence of individuals.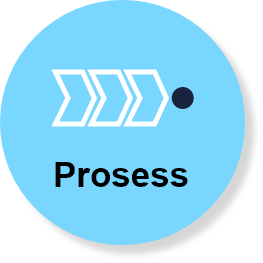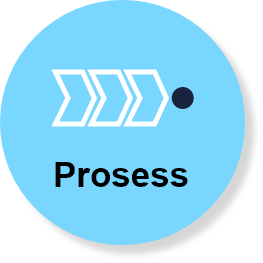 External sharing in sperate teams

Separate affiliated teams for sharing externally ensure that important internal information is not shared uncoltrolled outside the organization.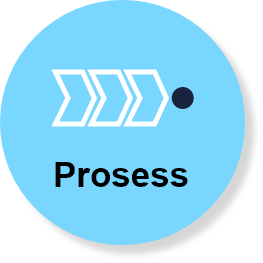 Approval of external users (GDPR) *

External users who are added to teams via ONwork are automatically entered in the company's contact register, where the GDPR is taken care of.

*GDPR-functionalityis in place in Q1 2022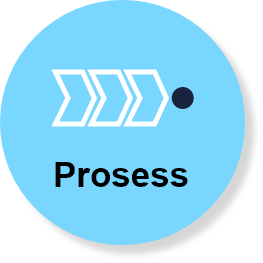 En klar og tydelig overskrift
En klar og tydelig overskrift
Closed teams are archived automatically

All teams that are closed in ONwork are archived in a secure way, so that they can easily be found and opened when access is needed. Only administrators can delete teams created through ONwork.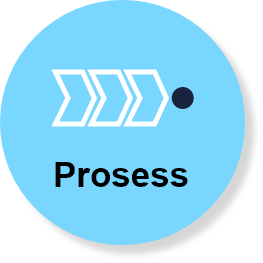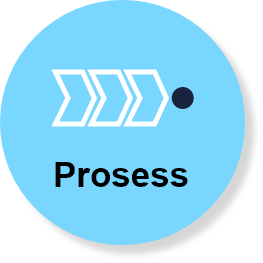 Structured process for team archiving

Archiving the team follows a structured process so that no important information is lost.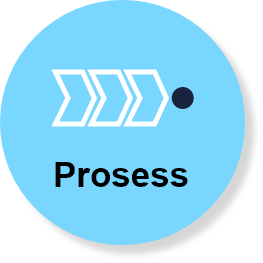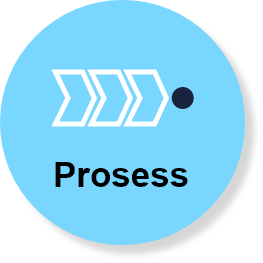 Good overview in a searchable archive

All teams that have been archived are available in a separate overview in Teams. Closed teams can be searched based on owner, customer, name, main group or other metadata that was entered when the team was created.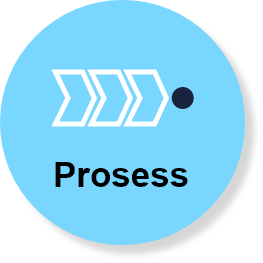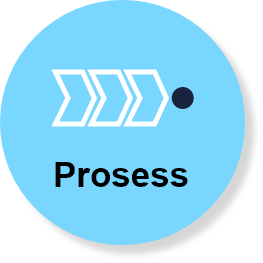 Easy to reopen archived teams

With a single keystroke, the user can visit an archived team to view historical files or other information stored in the team.

The administrator can reopen and make an archived team active again.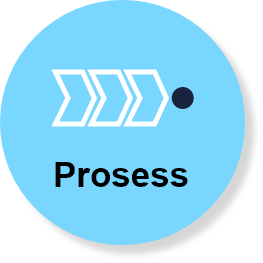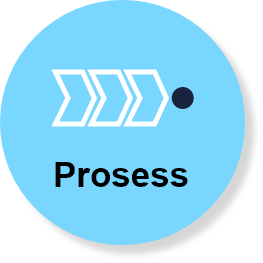 Notification in case of unwanted deletion of team

If a user deletes a team through the standard functionality of Teams, the administrator will be notified immediately *. Thus, the team can be restored in time if it is deleted by mistake.

*Funksjonality available from Q1 2022.